---
What Makes Us Unique
---
Throughout our years of experience, drug treatment has evolved thanks to many amazing strides in addiction research. Beachside Recovery Center knows that the disease of addiction takes a team to cure. From our remarkable staff to our comprehensive care and state of the art technologies, we have unlimited options from which we can customize your personal addiction treatment plan. Just as we offer clinically managed detox, relapse prevention practices, and dual diagnosis treatment, we also incorporate state-of-the-art technologies into our addiction recovery programs. While in treatment at Beachside Recovery Center, you will have the opportunity to participate in brand new addiction treatment technology.
Beachside is proud to offer a new, cutting edge treatment program that targets the effects of addiction in the brain. Thanks to recent studies, many healthcare professionals have discovered that the brain plays a major role in all facets of healthcare. The FDA has cleared Nexalin Technology as a highly effective natural treatment for any issue found within the brain's neurochemistry. Instead of utilizing pharmaceutical medication, the Nexalin device's frequency waveform targets key components of the brain's structure that regulate neurochemistry. At this time, data demonstrates that the Nexalin waveform can dramatically reset the brain's hypothalamus. The function of Nexalin is to normalize the production of neurotransmitters such as Norepinephrine, Dopamine, and Serotonin.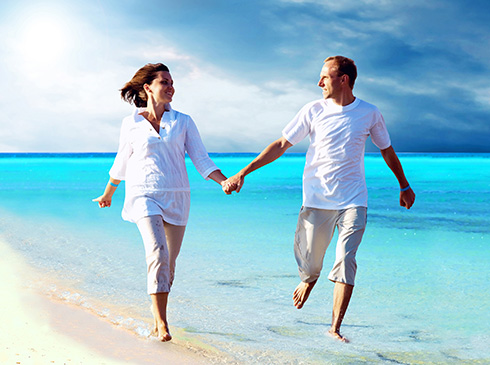 The Process
Each Nexalin session involves sitting in a calm atmosphere for 40 minutes. Most clients will be assigned to undergo 10-20 of these sessions over a period of 2-4 weeks. Throughout the session, you will have three pads placed on your face: one behind each ear, and one on your forehead. We guarantee that the treatment will be a peaceful process for you, as the stimulating waveform is essentially undetectable. Many clients even report falling into a deep, calming sleep during treatment. Clinical evidence shows that the hypothalamus and midbrain are stimulated through this process. The repetitive waveform that stimulates the brain appears to support specific resets of brain functions. Through research, it has been shown that Nexalin treatment is long lasting and has no detrimental side effects.
Nexalin has shown proven results for the treatment of various anxiety related issues and disorders that are related to brain function. These are included but not limited to:
Generalized Anxiety Disorder
Obsessive-Compulsive Disorder (OCD)
Post-Traumatic Stress Disorder (PTSD)
---
Nexalin May Be the Right Choice
---
If you have been experiencing depression or have symptoms of related conditions, such as:
Fatigue/Loss of energy, Insomnia/Excessive sleeping, Depressed moods, Recurring thoughts of death or suicide, Difficulty concentrating/Loss of short term memory, Feelings of guilt, helplessness, or worthlessness, Extreme irritability
Beachside Recovery Center also offers Pharmacogenetic Testing (PGT Testing). Pharmacogenetic Testing provides us with information about how a client might respond to specific medications. PGT is a tool that allows us to collect and analyze our clients' saliva so that we can use the results to determine what medications or doses would be appropriate. This process allows us to predict and explain unexpected outcomes of certain medications. It also helps us to identify clients who are at high risk for adverse effects from these medications before they are prescribed.